Mercedes Benz Extended Warranty Plans & Prices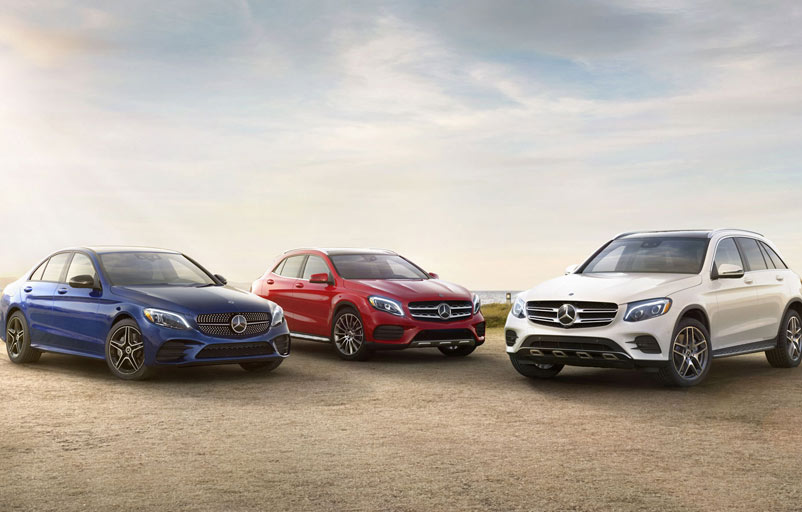 This solid luxury brand deserves top vehicle protection. Here's how.
If you are a Mercedes Benz owner, you know how important it is to protect your vehicle investment. Mercedes Benz extended warranty plans are available for this exact reason. These extended vehicle protection plans provide coverage after the manufacturer warranty expires, giving you peace of mind and protecting your investment for miles and miles. Learn more about Mercedes Benz extended warranty plans. Also, find out how to get Mercedes Benz extended warranty prices.
Choose a Plan
There's a good chance you will want comprehensive coverage, also known as a bumper-to-bumper warranty. This means nearly any unforeseen mechanical failure will be paid for by the extended service package. Other benefits can include 24/7 roadside assistance, your choice of repair shop, towing service, and rental car benefit.
While bumper-to-bumper coverage is one option, there are other Mercedes Benz extended warranty plans available, as well. You can purchase:
Powertrain Warranty
Tech Package
Special Case Coverage for Leases
Remember, once your factory warranty expires, the cost of repairs comes out of your pocket – unless you get one of the Mercedes Benz extended warranty plans.
If you want to protect your bank account and your vehicle, get a quote for a Mercedes Benz extended warranty today.
Advanced Parts and Computers – Make Sure You're Covered
Mercedes engineering is world-famous for its innovation. This can make repairs more expensive. When you choose an extended warranty, ask if the computer and electronics are covered. That way, if anything goes wrong, the plan pays to fix the problem.
You will speak directly to a car protection expert when you get a quote for one of the Mercedes Benz extended warranty plans. The expert will explain everything that's covered and ensure you get one of the car warranty plans that meets your needs.
The True Cost of Ownership – Saving with a Mercedes Benz Extended Warranty
Mercedes Benz vehicles are luxury at its finest, but they are also extremely expensive. The expense goes well beyond the sticker price when you buy the vehicle at the dealership. The true cost of ownership often shocks buyers.
The true cost of ownership includes:
The 2016 Mercedes Benz GL-Class is one example of an expensive vehicle to own, largely due to the cost of repairs. Over five years, the average owner spends over $9,000 on repairs.
That's just the average. What if something really goes wrong? Some of the Mercedes Benz models have been ranked as the most expensive vehicles to maintain because of the high repair costs.
Avoid costly repairs by getting one of the Mercedes Benz extended warranty plans today!
Common Repairs that Mercedes Benz Extended Warranty Plans Cover
Expensive repairs can make you think twice about keeping your Mercedes Benz. Fortunately, one of the extended warranty plans can cover your repairs. Common repairs include:
Turbochargers
Window Regulators
Transmission
Turbocharger Problems
Many of the vehicles in the Mercedes Benz lineup have turbocharged engines. These engines give vehicles an extra boost of power, making them a joy to drive. Unfortunately, that joy comes at a price. It's not unusual for turbocharged engines to get overheated, and that's when problems occur. The engine might fail when you hit the gas, and that can cause significant issues. If your turbocharger has to be replaced, it can cost over $3,000. That's one reason it makes sense to secure an auto repair payment plan.
Window Regulators
If you have a Mercedes Benz C-Class or ML-Class, you could end up with a problem with the window regulators. The problem is typically due to:
Thermal Irregularities
Overheated Motor
Separated Cables
This might not be a major issue, but the repair can still set you back $700 or more if you don't have an extended warranty plan. Once you buy your car repair insurance coverage, you won't have to worry about a thing.
Transmission Problems
Your Mercedes Benz transmission probably won't fail when you first start driving the vehicle. However, when your manufacturer's warranty expires, you could experience some transmission problems, regardless of the model you drive. Whether you have the Mercedes Benz GLA-Class, the Mercedes Benz E-Class, or something else, this could be a significant problem for you.
Transmissions fail for a variety of reasons, but it's often due to wear and tear as the vehicle ages. This is one of the most expensive problems you can face, and you'll be in for a huge repair bill if you don't have an extended warranty. On the low end, you might pay $4,000, but the cost could be $7,000 or more. If you don't want to pay thousands of dollars to get your vehicle back on the road, it's time to consider one of the Mercedes Benz extended warranty plans.
Start the process by requesting a free quote online today!
How Do Mercedes Benz Extended Warranty Plans Work?
Your Mercedes Benz extended car repair plan will begin working as soon as your manufacturer's warranty expires. If you buy your vehicle new, you will be covered with the limited warranty that offers protection for 48 months or 50,000 miles.
You can also get a warranty that works alongside your manufacturer's warranty. In this case, the coverage will begin as soon as you purchase the warranty.
Finally, you can get coverage for a vehicle that is not currently covered. You might have bought your Mercedes Benz used without a warranty or let your warranty expire. That's not a problem since you can get coverage now.
Once you have your coverage, you can use it whenever you need a repair. You just need to:
Take your vehicle to the ASE-certified mechanic of your choice.
Show your service protection plan.
Pick up your vehicle when it's repaired.
Pay your deductible, if applicable.
The mechanic works directly with the warranty company, so you don't have to worry about billing. The only time you'll need to take out your credit card or cash is if you owe a deductible with your plan. You will pay the deductible directly to the mechanic. This is truly hassle-free!
Stuck on the Road? No Problem with Mercedes Benz Extended Warranty Plans
In a perfect world, your vehicle would only break down when it's convenient for you. You would notice something was wrong and drive it to the repair shop without any issues. Of course, that's not normally how things work. Often, vehicles break down when you're on the road.
Many of the Mercedes Benz vehicle protection plans include roadside assistance. Call the number listed with your plan for a tow to a repair shop. It's that easy!
Mercedes Benz Extended Warranty Prices
To find out about extended warranty prices, you can get a free quote online. You simply enter information about your vehicle, and you get a free quote. Later, you can speak with a plan specialist to ask questions and customize your choices.
Do you want to go over Mercedes Benz extended warranty prices? Get your free quote today!
Get Peace of Mind
The last thing anyone wants is to get stuck with a huge repair bill. With an extended car protection plan, 100 percent of the bill is paid, minus any deductible ($0 to $100 in most cases).
Does that sound good to you? Get the process started by calling for a free quote. You can also request a quote online.
Get your quote now, so you can have peace of mind when you're on the road.